In this tutorial you will learn how to edit bitmap images within your custom layout file.

This tutorial is separated into two parts:
1. Converting Bitmaps To Vectors; Defining specific text colors.
2. Covering Keycaps With An Image; Use a single image to span multiple keys.

This method is good for converting smaller images and less complex images to crispy vectors. If you're using a super giant image that is very complex you're better off just leaving it a Jpeg or PNG file without conversion.
1. Import (File > Import) a bitmap image in Inkscape (choose embed)

(Ctrl+I)


2. Select the image
3.
Open the
Trace Bitmap
(Path > Trace Bitmap...) window
(Shift+Alt+B)
4.
Experiment with the scan options to create a vector
Single Scan
is good for creating
single color
outlines or silhouettes, best for very simple and iconic shapes
Multiple Scans
is good for creating
full color
vectors
Change the threshold or color values then press Update to get a new preview of changes. When you're happy with the results of your preview, click OK
​
​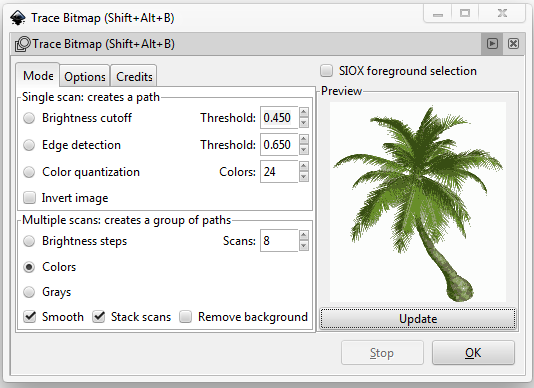 ​
Covering Keycaps With An Image
---
Please only use Jpeg or PNG files if you are using large and complex images to cut down on the overall file size of your document. Converting a giant image to vector will not make it look better (most of the time it will actually look worse) and it will inflate the file size. It's just not as efficient and makes for a worse print, so don't do it ok? :)
Before
importing
your image, save it as a
jpeg
, preferrably with a resolution of
300ppi
1.
Open the
Layers
window (Layer > Layers...)
(Ctrl+Shift+L)
2.
Unlock
, then select the
Clipping Mask
layer
3.
Import
your image (File > Import...)
(Ctrl+I)
(Embed the image)
4.
Move your image to where you want it to fall on the keys
5.
Select
your image and
lower it to the bottom
(Object > Lower To Bottom)
(End)
6.
Select both
your image and the clipping mask
7.
Clip
the image (Object > Clip > Set)
If you need to
move
your image
after you have clipped it
, you can
release
the clip (select the image Object > Clip > Release), move your image, then
set the clip
again.
​